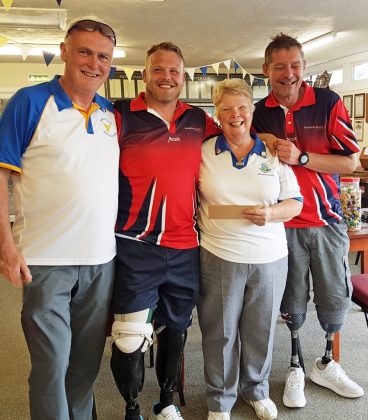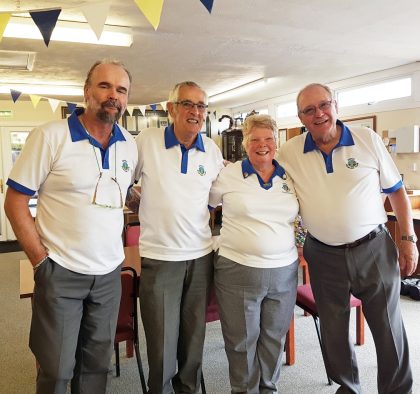 Winners, Disability Bowls England                                            Runners up, OBC 
On Sunday 4th of August Oundle Bowling Club held it's annual Gala Day. A total of 14 teams from near and far entered the competition.
After a cup of tea and a bacon roll play got under way at 9.15 am. Each team had 4 games of 6 ends to play in a 'round robin' format. For each winning end 1 point was awarded and 2 points for a game win.
All games were hotly contested throughout the day with two teams in particular leading the pack.
With a break for a hot meal play resumed after lunch. Play came to a close around 4.30pm and the point scores were totalled. The outright winners, who were a pleasure to watch, were the team from Disability Bowls England Bob Milligan, Craig Bowler and Mark Cooper with 32 points. Close behind was one of our own teams, John Lofthouse, Phil Mildon and Tony Cannon who took the runner up prize with 31 points. Margaret Walker, past President presented the teams with their prizes
We look forward to next year's event with even more team entries.