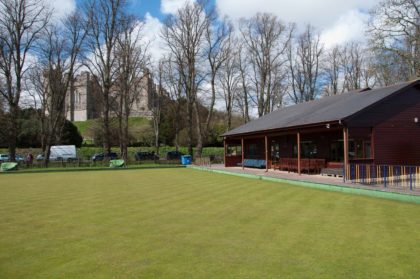 This year our President, Margaret Walker, arranged for us to visit Worthing-on-Sea and play three bowls matches. Our hotel, the Chatsworth was located a stones throw from the promenade and provided us with with dinner, bed & breakfast and entertainment on the Saturday evening. It proved to be an ideal base from which to visit & play two local clubs as well as a one day trip to the beautiful town of Arundel, where we played at their club next door to the famous castle.
As usual, after our formal dinner on the Sunday evening, fines were handed out to members for their misdemeanours during the season. A record £400 was collected for the President's Charity, the Sue Ryder Hospice, which also included a whopping £70.00 donated by Robert Bellairs (apparently the winnings from a bet, for running over the green sprinkler system in his undergarments!)
We won the first two matches, Marine Gardens and Arundel, but unfortunately lost out to Worthing's Pavillion Bowls Club who fielded some extremely good players. This broke our record of winning every tour match for the last 3 years. We will of course, redouble our efforts for the 2019 tour to Weston-Super-Mare.
The Tour Cup this year was won by:-
Margaret Marlow, Molly Bostock, George Martin and Richard Poole with a score of 23 to 10 against Marine Gardens Bowls Club. – well done!