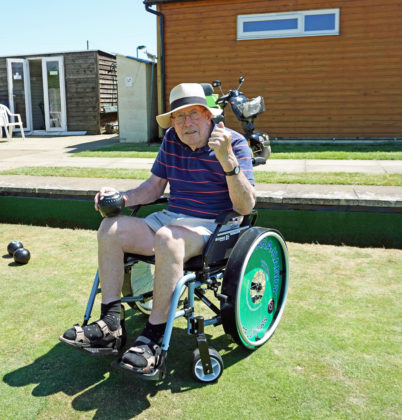 On a recent very warm afternoon, John Cunnington (JC), a keen Oundle BC member for many years, rode his disability scooter for over a mile from his house to the bowling club to try out our recently acquired bowling wheelchair.  John who suffered a spinal injury over a year ago and is now wheelchair bound, was keen to find out if he could still bowl.
Previously a left handed bowler, John was surprised to find that he could bowl from the wheelchair much better with his right hand.  With only a few practice shots he managed to get his bowls well up the green.  David Walker and Douglas Best who supervised the session both agreed that with further weekly visits John may well be able to join other members for 'roll ups', something he has greatly missed.  Well done John!
As you will see from the picture above, John was well pleased with his visit.