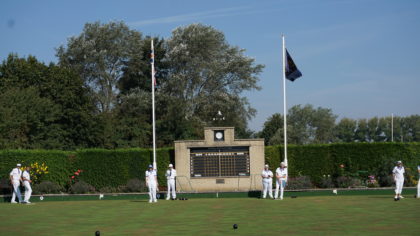 Oundle Bowling Club Spring Newsletter
Dear Members and friends,
Now that we can see the light at the end of Covid tunnel and the arrival of Spring, our thoughts turn to getting back on our bowling green and enjoying the game with our fellow members.
Your Management Committee has been meeting monthly via Zoom and working hard to get us in position to open the Club at the earliest possible time. We are indebted to Bowls England for keeping us informed regarding Covid restrictions and how they affect the operation of the Club.
The purpose of this newsletter is to keep you up to date on what is happening at the Club.
Club AGM
At the current time we are unable to use the Clubroom to hold our AGM due to ongoing social distancing rules. Therefore, we have emailed and mailed out all of the AGM information to members. Information on how to vote on the motions is within the pack.
Fixture List
We have a full schedule of friendly matches with other clubs (subject of course to the 'road map' staying on course). The printed fixture list was mailed out to members and invitations for members to play for Oundle, will be put on the noticeboard when the Club house is re-opened.
Club Competitions
It is our intention to run our internal competitions as normal this season. Details regarding how to enter will be posted on the Club noticeboard and emailed out in due course.
Open Weekend
Our annual open weekend will be held on the last weekend in May(29th-31st). This year, in an effort to get people back to bowling, Bowls England will be supporting our recruiting with a national Bowls Big Weekend Campaign. Our Presidents Charity this year is raising funds for the R.N.L.I. a most worthwhile cause. Donations for our cake stall and Tombola will be gratefully received. Please put this weekend in your diary and come along if you can and help potential new members get started in our wonderful sport.
 Return to Play
In line with the recent guidance received from Bowls England and the Government 'road map' we plan to be able to return to play and be Covid safe at OBC as follows: –
Saturday 24th April Green opens for play following the rule of six with 3 rinks bookable as per last year. Hygiene protocols will be in force. Changing rooms will be open, and outdoor catering allowed.
The format for playing our early fixtures will be agreed with our opponents prior to the match and players notified accordingly.
Monday 17th May. Larger groups able to play (exact numbers TBA) Inside catering to be allowed. Details to follow.
Monday 21st June
Easing of all restrictions
We will of course keep you informed of any changes as and when we are advised.
   Club tour to Gt Yarmouth
September 2021
The President's tour is something we all look forward to towards the end of the season. Dawn will update you on the arrangements in early June. As of the moment the tour is going ahead on September 10th through to 13th. If you have not already booked your place and would like to come on this fun weekend, give her a call on: – 07984 109280.      
Membership Subscriptions
You will have seen from the AGM documents that we have kept our membership fees this year at the same level as 2018. (£85.00 Full, £10.00 Associate and a locker £5) In comparison worth most other local sports, our fees are incredibly low and good value. I hope that you will continue support our club by paying this year's subscription by the due date. This year is particularly key, as we have to pay the County fees earlier than in the past. Molly Bostock will be at the club on Tuesday 20th April between 2pm and 4pm to take cheque or cash payments. You can of course pay by directly into the Oundle Bowling Club's account:
Sort code 20 67 37 A/C no 90400386
Social Events
As you know the Club relies on our social events to help finance the running of the club. Due to lockdowns over the past year, we have had no revenue at all from this source. We need to get our social scene up and running as soon as possible. We therefore need your help in two ways: –
Reforming of a volunteer social committee to run our usual events and come up with ideas for new ones.
A volunteer to head up and organise the committee.
This is your chance to get involved and help the club.  If you are interested, please contact me or any of the Management Committee members.
Preparations for Opening
As the Club has been closed for some considerable time, we will need to do a major spring clean both inside and out in preparation for opening in April. So, if you can spare a few hours the weekend before opening, it will be extremely helpful and get the job done quickly.  Please let me know if you can help.
Obituaries
When our AGM is held in the Clubhouse it is normal custom to ask members for a minute's silence in remembrance of members who have passed away during the year. So, it would be remiss of me not to ask you take a moment to remember: –
Michael Creber.
Jeff Martin
Ron Linsell
Peter Birchell
Stewart Laxton
County League
This year we have decided to entered the County League. There are 5 games on a Sunday morning starting at the end of May. We need to have 12 members to play in each of the five games. Volunteer's welcome!
I hope to see you all at the club this season.
Happy bowling!
David Walker
0709 875737
01832272250
Email obc@oundlebowlingclub.org