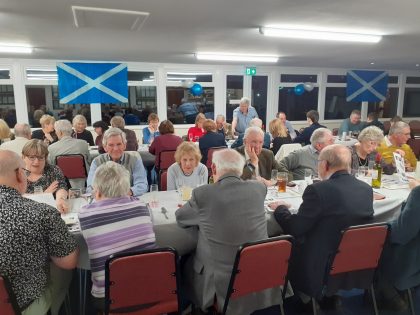 On the last evening of January 2020, Oundle Bowling Club held a traditional Burns  supper to celebrate the life of the bard who was born 261 years ago. The haggis was 'piped in' by a piper from Oundle School who also entertained diners with a few tunes during serving of the meal.
Unfortunately, due to illness, our regular Scottish  speaker for the evening was unable to attend. However, one of our members, Douglas Best, at short notice, kindly stepped in to the role. Their was much applause for his renditions of the bard's poems sprinkled with some appropriate jokes.
The 'Toast to the Lassies' this year was given by our President Richard Poole. The 'Lassies' response by Margaret Marlow was one of the highlights of the evening.
Some 79 members and guests enjoyed an excellent traditional meal provided by the catering team headed up by Dawn Saunders. Thanks also go to Joan Cavanagh for her help in organising the event