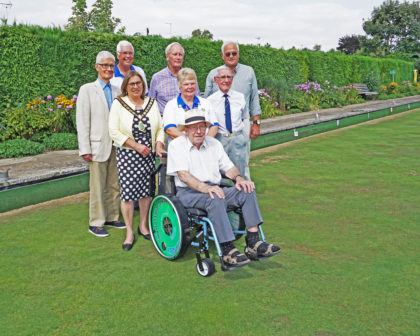 Oundle Bowling Club were delighted to host members of East Northamptonshire Council at a ceremony yesterday to officially receive a specially adapted wheelchair suitable for disabled bowlers. The Council was represented by  Wendy Brackenbury (Chair) and three Oundle ward councillors, Phil Stearn, Jake Vowles, Rupert Reichold
Through the ENC Council Members Empowerment fund, OBC was able to purchase the wheelchair plus a special ramp to access the green. Our very own John Cunnington, having previously tested the chair said he was delighted with it's performance. We look forward to seeing John on the green again, in the near future.
The ceremony , attended by a number of OBC members were able to watch John and applaud him as he delivered a number of bowls from the chair.
After tea & biscuits, Council members were shown the club's future plans for enlarging the club house and were wished every success in our application for a grant from the council's Community Facilities Fund.